Annual Freelancing in America Survey Addresses Size and Needs of Independent Workforce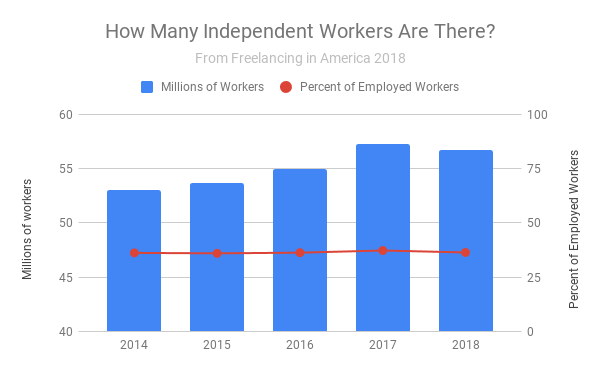 The Freelancers Union and Upwork have released their fifth annual report on the independent workforce. The report, based on a survey conducted by research firm Edelman Intelligence, estimates 57.3 million workers have engaged in independent work in some capacity in the past 12 months, down slightly from last year. Since the survey was first administered in 2014, there has been overall growth in the number of freelancers. As a percent of workers, the portion of those engaged in some form of freelancing has remained relatively stable around 36 percent.1
Many people who engage in independent work do so to supplement other income sources, and participate sporadically. On the Freelancers' survey, 42 percent of those who engaged in independent work did so less than weekly. Half said their independent work was intermittent rather than consistent. The demographic makeup of these workers aligned with prior estimates, with those who engage in independent work being slightly more likely to identify as male, to be younger, and to live in urban areas than the overall workforce.
As in prior years, unpredictable income was a top concern for independent workers. Other major concerns are those faced by traditional workers as well: affordable healthcare, debt, retirement, and fair pay. In addition, more than a quarter of freelancers said they would like policymakers to focus on tax simplification, an area the Aspen Institute Future of Work Initiative has published policy proposals to address.
Freelancers were more likely than traditional workers to report having participated in training opportunities: 75 percent had engaged in training in the past year, compared to 60 percent of non-freelancers. The survey used an expansive definition of training, which includes reading books, watching YouTube videos, and participating in online forums, in addition to participating in courses or workshops. Cost was the biggest barrier to training for these workers, who, without a traditional employer, are often on their own to pay for training.
Independent, alternative, and online platform workers have proven difficult populations to accurately measure. This survey contributes another estimate to a diverse field of research. Edelman Intelligence asked respondents a series of questions about their work, intended to detect forms of independent work that might go unrecorded in typical questionnaires. Given the challenges faced by other researchers and institutions in developing accurate measures of independent work, the research community could benefit from increased transparency of these methods. Collaboration between organizations engaged in research could facilitate the development of best practices and better understanding of contemporary work arrangements.
1. Calculated as the percent of the employed workforce using BLS estimates for the primary month the survey was conducted.